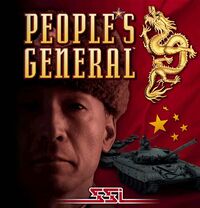 People's General. Also known as PeG was released in 1998 by SSI. It followed the successful 5 Star General Series (Panzer General, Allied General, Pacific General) and built on the same game engine as Panzer General II. PeG is a turn-based strategy game which takes a speculative look at the Eastern Hemisphere from the years 2001 to 2020 with battles ranging from Vladivostok to Singapore to Volgograd (Stalingrad).
People's General uses an updated version of the graphics engine in Panzer General II. The controls and interface are similar to PG2 but the PeG game engine has many new features including: an air mission system, new spotting rules, and the option to purchase units with different experience levels ("green", "veteran" or "elite" units).
Fans have developed new campaigns, new equipment files and game variations.
Although developed for Win 95/98, PeG will still run on Windows 7 in compatibility mode. (You may need to click through a screen with blank buttons.)
Game engine modifications and special equipment files have have allowed this Modern Military combat game to be played for earlier conflicts including the Cold War, World War II, Napoleonic and Civil Wars.
In addition to PeG's original maps, PG2 maps are easily converted to PeG. With more than 400 maps available scenarios and campaigns have been developed covering battlefields in Europe, North Africa, the US, the South Pacific and Asia.
One of the most important variations is the People's General WWII mod, initially created by Mark Kirby along with Fred Chlanda. PeG-WW2, as it is commonly known, adds a WW2 focused equipment file and WW2 icons. Mark also modified the GUI and DAT file to provide a text and graphics interface that is distinct from PeG.
WIKI TOPICS

OTHER IMPORTANT LINKS
There are several great sources of People's General information:
JP's Panzers PeG & PeG-WW2 Forum
Community content is available under
CC-BY-SA
unless otherwise noted.